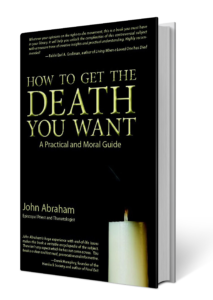 "Episcopal Priest John Abraham has never shied away from controversy. During his years of innovative hospice practices and caring for the dying, he has too often witnessed unwilling patients being forced to go along with doctors who only prolonged their patients' suffering. This inspired him to speak up for a death with dignity for those who chose not to artificially prolong their painful and hopeless situation.
Abraham has written this book about his experiences and it includes horror stories of those who did not get the death they wanted, and describes his efforts — both inside and outside the clergy — to ensure that government and health professionals listen to the wishes of those who choose a hastened death.
This book is not for the faint of heart. Abraham does not mince words when describing what he has witnessed.
And he gives detailed lists on what to do when dealing with family members, friends, clergy and medical professionals who may not share the reader's personal choices in their manner of dying. The book also has very helpful lists that will prove useful to anyone who ever has to plan a funeral or settle an estate.
How to Get the Death You Want also explores physician aid in dying in the American states that now allow this, along with the more enlightened European countries who have less stringent requirements than the US. It truly is the ultimate "how to" book for the one process that all of us will one day go through. And it explains in a factual, logical and very clear and direct way the reasons why some of us join right-to-die organizations such as Hemlock, Compassion & Choices and Final Exit Network.
Regardless of the reader's position on physician aid in dying, the various lists it contains by themselves make this a worthwhile book to own and read, even if only used to ensure that you are treated the way you want during a hospital or nursing home stay."
–Renée Neumann, Final Exit Network member, Tucson, Arizona
How To get The Death You Want Review: Renée Neumann, Final Exit Network member, Tucson, Arizona